Wednesday, October 31st, 2007
(This is Part 2 in a series of three posts evaluating the first eight weeks of the season and looking forward to what's ahead. Part 1, "19 reasons why Notre Dame's offense has sucked so badly in 2007," is available here.)
Will the real Charlie Weis please stand up?
In the span of a mere three years, the head coach of the Fighting Irish has gone from an unknown quantity with a whole lot of jewelry on his fingers, to the savior of a program that had been mired in a decade of mediocrity, to a clever schemer with a penchant for running up the score on service academies who couldn't win the big game, to an inept loser arrogantly presiding over the downfall of his alma mater's proudest athletic program. The following numbers might be able to give some sense of the reasons for this transition:
Put another way, for those of you who prefer graphical representations to hard statistics: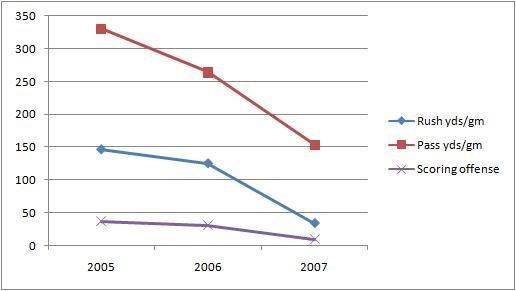 And again, if you'd really just rather have it summed up in a picture:
Nope, there's no way to get around it: the 2007 version of the Fighting Weises has been bad - really bad, especially on the offensive end. And I argued yesterday that none of the eighteen other explanations we might give of this team's struggles can carry as much weight as the one that starts and ends with the head coach himself. In case my argument wasn't good enough for you, though, here's Weis saying pretty much the same thing in his Tuesday press conference:
Q. For those of us who haven't followed Notre Dame football as closely as those people who cover it on a regular basis or are fans, could you kind of just quickly summarize what you feel has happened this year? Is it simply a case of being hit hard by graduation and the younger players who have been asked to fill in just haven't performed or were not ready or the inexperience? In your overall big picture analysis, what's led to 1 and 7?

COACH WEIS: Well, that's a loaded question. (laughter) Well, first of all, let's start with coaching, because what you just did in your question is gave me about 15 different excuses for us being 1 and 7, so why don't we just start with 1 probably, with the transition that we've had from last year to this year, have not done the best job of having the team ready to go on a week in and week out basis, and we probably should leave it at that one because if you are looking for me to give you a whole dossier of problems that have happened this year, there would be too many things. If you want good fodder, let's just throw me out there, okay.

Q. But in general, though, the fact that you have such an inexperienced team is a crucial factor…

COACH WEIS: It's a factor, but that's what it is. It's a factor. It's not the factor. There's a lot of things that come — I think when you do that — once again, it would be easy for me to sit there and say, well, if these five things weren't the case we'd be 7 and 1 right now. Well, the problem is they are the case. I started with what I felt was the number one reason, and I think that if you start with the head coach doing a better job, then you'd probably have a better record.
Now, all of this raises a natural question: which Weis is the real Weis? The one whose team had nineteen wins, many of them in blowout fashion, in 2005 and 2006, going to two straight BCS bowls and re-writing the offensive record books in the process, or the one who's the head coach of a bowl-ineligible team that's currently 1-7 and on pace to re-write those record books in quite a different way?
The primary schools of though on this question break down into two major groups:
The Dr. Jekyll Theory: Charlie Weis is an offensive genius and a brilliant head coach who's simply been crippled by an undertalented and inexperienced roster this year. Sure, he's made some mistakes in the way he's done things - e.g. by not having enough full-contact practices, or doing too much scheming instead of taking a more piecemeal approach - but on the whole there aren't any problems he can't fix. We just need to be patient with him, and give him a chance to get his players on the field.
The Mr. Hyde Theory: Charlie Weis is the worst coach in the universe. He's too fat, too stupid, too stubborn, and too ugly. He rode the coattails of Tom Brady while he was with the Patriots, and did the same with Brady Quinn and the rest of Tyrone Willingham's recruits in his first two years at Notre Dame. Now, without a bunch of stars to carry him along, his true ineptitude is being exposed.
The argument I want to make here is that Charlie Weis is actually both of these characters at once: he's Dr. Jekyll AND Mr. Hyde, the creative genius AND the over-scheming fool, the coach who squeezes the most out of his veteran players AND the man lucky enough to ride his star talent to victory. In other words, what we've seen in 2007 is just the other side of the coin from the previous two years.
Here's why I say this. In the first place, I think the advocates of the "Mr. Hyde" theory are right to insist that the deficiencies in Weis's coaching this year have gone far beyond problems of the "learning curve" variety: for example, while there's no doubt that Weis was speaking truly when he said that he's never been part of a team that practiced full-speed during the season, it's also the case that he has a number of assistants on his team who presumably have seen that done, as well as other college coaches he knows who can tell him how they practice with their own squads. And even as Weis has begun to alter the way he runs practices, the reports I've seen indicate that the changes have been less than wholesale (with the possible exception of the "back to training camp" week following the Michigan game). In other words, the fact that Weis runs his practices in this particular way seems to be more than just an accident, more than just the result of ignorance: it's plausibly an essential, if not quite central, aspect of the way he thinks that teams should prepare for games.
Similarly, consider the case of game-by-game adjustments in the offensive schemes. There's no doubt that this sort of thing is a crucial part of Weis's approach to gameplanning, and that it was a huge element of his success in the NFL and in his first two seasons with the Irish. But there's also no denying that it's been a big part of what's kept this offense from generating any consistent production. The key thing, though, is that this sort of constant tinkering is just a part of who Weis is: if he doesn't do it, he simply isn't going to be successful; but when he does do it, it's sometimes going to blow up in his face.
In other words, both of these examples - and I think there are many, many others - suggest that the aspects of Weis's coaching style that have doomed the 2007 squad aren't just accidental traits of a coach trying to figure out the college game. Rather, they're just parts of what make him Charlie Weis, as opposed to Tyrone Willingham, Steve Spurrier, Nick Saban, or Pete Carroll. And so on reflection, it really shouldn't be surprising that with Weis at the head, this particular Irish team has performed so poorly. He simply isn't the right coach to make this group look even mildly respectable against teams like the ones they've played so far.
But on the other hand … there's NO reason to deny the obvious fact that VERY SAME coaching style was a HUGE part of Notre Dame's success in 2005 and 2006. Given a (relatively) experienced group of savvy veterans, a quarterback who soaked up the playbook like a sponge and practically had to be dragged from the practice field when it was time for his backup to take some snaps, a versatile tailback and a group of wide receivers who together were proficient at every aspect of the game (rushing, blocking, route-running, pass-catching, blitz-pickup, and so on), an experienced offensive line with the ability to make game-by-game adjustments, and so on, Weis was able to put together an offensive attack that had his team in national championship contention for two straight years. Chalking that up solely to dumb luck, or even to the undeniable greatness of Brady Quinn & Co., smacks of the sort of myopia that one expects only from a delusional Michigan alum.
In other words: my proposal is that it's just a fact about Charlie Weis's talents and coaching style that, given an experienced group of talented veterans, he can put together a dynamic offense with a chance to win a national championship. At the same time, though, its a fact about those very same talents and that very same coaching style that they don't work well at getting a bunch of scrappy youngsters consistently to piece together any semblance of an offensive attack. It's a both/and, not an either/or.
What this means, though, is that the biggest challenge facing Charlie Weis isn't necessarily that of "learning how to be a college coach": he's already given ample evidence that he can do a damn good job of that, given the right players. And note once again that by "right players" I don't mean "superstars all around": with the exception of the quarterback position, Notre Dame never had the level of talent on offense in 2005 and 2006 that teams like USC and Michigan had. The crucial task, in other words, is that of transforming Jimmy Clausen, James Aldridge, Armando Allen, Robert Hughes, Duval Kamara, Robby Parris, Golden Tate, Will Yeatman, Mike Ragone, Dan Wenger, Sam Young, Matt Romine, Eric Olsen, and the rest into the kinds of players that Quinn, Darius Walker, Jeff Samardzija, Maurice Stovall, Rhema McKnight, John Carlson, Anthony Fasano, Mark LeVoir, Dan Santucci, Ryan Harris, Bob Morton, and John Sullivan were in 2005 and 2006: not just a bunch of players with enough talent to win a lot of games, but a group of hard-working players who showed up ready to go each week, were competent enough to do what he asked them to do, and - by and large, anyway - responded well to Weis's coaching style. Given that, there's every reason to think that Weis can once again make the Irish a team to be feared.
The question is, how do we get from here to there? It's not just about allowing players to mature physically, drilling the playbook into them, or even teaching them the proverbial fundamentals. Rather, I think the key question is whether Weis can get these young players to keep their heads in the game, to continue working hard - on Saturday afternoons as well as on the practice field, in the weight room, in film study, and so on, both through the remainder of this season and through the offseason that will follow it. And the difficulty is that with the way the first eight games of 2007 have gone, the possibility of having players get discouraged and just give up is a real one.
But that's a topic for tomorrow's post …