Friday, October 19th, 2007
Hollywood is a breeding ground for a–holes
Wallets get as big as Reggie Bush's
Skinny girl, eat some more food
Muscle man, you look like a f–king freak
Hollywood is a nice place for the weekend
Not a place for a nice person to live
Football star, no one likes you
How'd ya learn to be so f–king mean?
Take me home to sweet South Bend
Big women at the 'Backer
This Saturday (YEAH)
Come and see the Irish win
LET'S GO!
- NoFX, "San Francisco Fat" (censored and otherwise tweaked)
Perhaps it's a bit of Post-BC Fatigue Syndrome or maybe some general exhaustion after a 1-6 start, but the Irish netroots have been surprisingly quiet about tomorrow's showdown against SC. But while I can't speak to the mood on the team or around campus, I can tell you that there's no shortage of excitement on tap around my own home: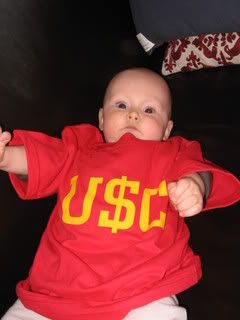 (Gear courtesy of bamfshirts.com)
That's right folks, it's FREAKING SC week! And all we can hope for is that Saturday's game goes as badly for the Trojans as their plane flight into the 'Bend:
USC's football team, coaches and staff endured several terrifying minutes as their chartered flight to South Bend plummeted amid a severe thunderstorm, forcing the pilot to abort his first landing attempt.

…

USC sports information director Tim Tessalone told The Associated Press on Friday that some passengers were thrown from their seats by turbulence as lightning cracked around the storm-tossed aircraft about 9 p.m. Thursday.

"It was a little bit of a roller coaster drop there for a minute," he said. "We had some people fly out of some seats. Everybody is fine, but it was a frightening little dip there."

The pilot aborted the approach and circled around the storm before landing without incident about 20 minutes later to the relief of the shaken team and the spouses of some staff members also on the flight, Tessalone said.

Safety Taylor Mays said he was screaming.

At their hotel, senior defensive end Lawrence Jackson said he was going to see the team trainer because a Popsicle stick had pierced the inside of his mouth during the drop.

"That was terrifying," fullback Stanley Havili said. "I thought I was going to die."

Quarterback John David Booty said, "It wasn't the worst flight I've ever been on, but it was definitely the biggest drop."
Saturday's weather report, unfortunately, calls for clear skies and temperatures in the low-70s, but not to fear: the playing field at ND stadium has once again been populated with miniaturized leprechauns with tiny little dart guns, with clear instructions to attack Trojan players and Trojan players only. (Oh, and Pete Carroll, too.) Good luck running wild in the midst of that, jagoffs.
Speaking of running: as the Irish pass defense begins to get the credit they actually deserve (that's right, Bob Kravitz, you are an ass), and the USC quarterback situation still up in the air [EDIT: Not anymore. It's Dirty Sanchez, baby!], it's worth taking a quick look into the question of whether the Irish have a chance to slow down a Southern Cal (yeah, I said it again) running game that currently ranks 24th in the nation at 198.2 yards per game.
For comparison's sake, here's what the Irish have done against the run so far this year, together with their opponents' averages and national rankings in rushing offense:

One thing these numbers reveal is that part of the reason the Irish run defense has looked so bad, especially on paper (ranked 93rd overall, giving up 186.7 yards a game), may be due to the fact that so many of the teams ND has played so far have simply had terrific running attacks overall: by the numbers, Tailback U's splenderrific ground game is only the fourth-best the Irish will have faced this year. Moreover, a quick comparison between the season-long rushing averages for ND's opponents and the yards they gained on the ground against the Irish reveals that in only three of seven games have ND's opponents gained more rushing yards than usual.
A closer look at the numbers for SC's ground game reveals a similar situation: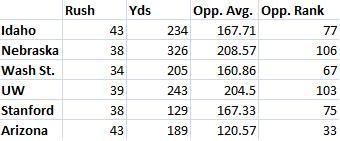 The Trojans, in other words, have not exactly played a bunch of run-stoppers: and while they've exceeded their opponents' averages for rushing yards allowed in all but one case (the loss to Stanford), there's definitely reason to take a bit of hope from these numbers.
If the Irish can continue to build on their (relative) defensive successes from the past few weeks - note that if we factor out the 52-yard run on BC's opening drive, their rushing average drops to 3.52 yards per carry on the day - and hold the Trojans under, say, 160 140 rushing yards tomorrow, I have to think they'll have a shot. This is, of course, predicated on continuing to defend the pass well and so keeping SC's rather mediocre 57th-ranked air attack (that's only 232 yards per game) under wraps, perhaps forcing a turnover or two, and (here's where it gets unlikely) also showing some signs of freaking life - and perhaps doing less stupid crap - on offense against a Trojan defense that has been nothing short of dynamic thus far, having given up more than 250 or so total yards only to Nebraska. (A few hopeful statistics, though: SC ranks only 86th in the nation with just ten forced turnovers, 55th with twelve sacks, and 86th with 33 tackles for a loss.) Whether the Irish can pull this off, especially without James Aldridge, is naturally the biggest question going into gameday, though if ND can force Saturday's matchup into the same kind of game they played two weeks ago against UCLA - and that UCLA played against USC last year - we may get to see the Pete Carroll Face once again:
Ahh, good stuff, that.
Anyway, I'll be back tomorrow morning with some injury updates on both teams and perhaps some more thoughts on the game.