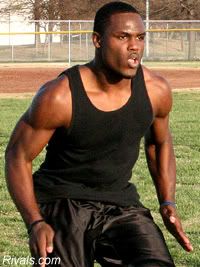 An interesting article in today's South Bend Tribune discusses the intriguing possibility that the departure of Demetrius Jones might give ND a better shot in their recruitment of Kansas QB/WR/Athlete Chris Harper, listed as a four-star prospect on both Scout and Rivals, who will be an official visitor to South Bend this weekend for the Michigan State game. The article quotes Harper's high school coach, Weston Schartz, as saying that while Harper's interest in ND had previously been about a 7 on a scale of 1-10, "it's up much higher than that now."
The reason for this, of course, is that while Harper clearly has the ability to be a terrific wide receiver in college, he's made it clear that his real desire is to have a shot at quarterback - and ND's sudden lack of depth at this position clearly increases the odds that this might happen. Moreover, Charlie Weis said in a press conference earlier this week that he'd consider recruiting an extra QB in 2009, so long as it was someone who'd also be able to play at another position - a remark that seems clearly to apply to 2008 as well.
When this possibility first started being discussed, I wrote that in a way the Demetrius Jones situation could be viewed as a cautionary tale that would militate against recruiting Harper as a QB:
ND doesn't run an option offense, and with Clausen at the helm now and Crist coming on board next year it would take some serious self-deception for Harper to convince himself that he has a real shot at playing QB at ND. Such self-deception could, of course, be aided by the coaching staff if they wanted, but with the way the Jones situation panned out it's hard to imagine them leading a kid on when they know full well he'll end up unhappy.
This opinion squared with what Mike Frank was quoted as saying in an article on Harper in the Observer:
"He's kind of a combo guy and the Irish have a shot," Frank said. "The problem they're going to run into is he also wants to play quarterback and Notre Dame is recruiting him as a wide receiver. So, that could be a little bit of a problem. … They have to convince him that wide receiver is his future."
My worry, in other words, was that if Harper was recruited as a possible quarterback, he might quickly be disappointed when he doesn't see the field in that capacity, which could lead to frustration and even a possible transfer. But the more I think and read about this, the more I think I was wrong.
Here's why: even if Weis and the rest of the coaching staff tell Harper that he has a shot to play quarterback, he has know fully well that he's not going to supplant Jimmy Clausen, and so that if he wants to have a chance to play during his first three years it will have to be somewhere else on the field. By all accounts he's more than capable of doing this as a wideout:
"He's not a pro-style quarterback that's going to drop back and throw 35, 40 times a game, but he's just a great athlete," Schartz said. "He could play receiver for anyone in the country. As a matter of fact, if he was playing receiver, I think he'd have 50 offers. But he doesn't play receiver."
This last sentence, though, comes with a big fat qualification:
"The only place he will consider, and maybe I'm talking out of turn here, but after my conversations, to play receiver at would be Notre Dame and the University of California," Schartz said. "And don't ask me why."

Because of Jones' departure, the Irish coaches have told Harper they are recruiting a quarterback who can play another position.

"All he wants is a shot, I think," Schartz said. "If it doesn't work out, he will get snaps as a freshman at receiver, he's that type of kid. I'm not kidding you. He can come in any place and play receiver."
In other words: it seems entirely possible that Harper might come to ND and play receiver for his first three years. At that point, with Clausen gone, he'd compete with Dayne Crist and whomever else the Irish have recruited in the meantime to be the starting quarterback. If this doesn't work out, he could either go back to wide receiver or be the backup QB for a year (or two, if he redshirts).
Harper's situation is unlike Jones's in that Harper HAS said he's willing to play WR for the Irish, while Jones always insisted that he wouldn't. If Harper does just this for his first few years, obviously he wouldn't be able to transfer even if he doesn't succeed in the competition for the starting QB position. As I said, this possibility is intriguing, to say the very least …
Tags: , Charlie Weis, Chris Harper, Dayne Crist, Demetrius Jones, Jimmy Clausen